Description
Client Office Of Public Works
Service Type Restoration of Historical Structures
Duration 12 months
Summary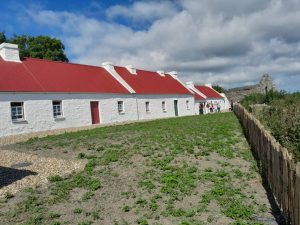 Project Description
Supply & erection of scaffolding along the external walls,
Consolidation and repair of existing masonry fabric of external & internal walls and features including chimney stacks, barge cappings and fireplaces, repairs to existing window openings and replacement of cracked lintels as required.
Remove and re-bed stones that have become unstable and constitute a health and safety risk. Masonry joints throughout will be raked out where required and repointed with appropriate lime mortar and wall tops will be flaunched as required. New external and internal lime plaster.
Repair of internal floors & replacement of damaged floor slabs, new floor slab and associated build-up where required.
Removal and replacement of existing roof timber and roof sheeting.
New external and internal joinery.
First Fix of M&E services and associated ground works.
M Fitzgibbon Contractors Ltd Role
Main Contractor and PSCS
Architect 
A2 Architects