Description
Client University Of Limerick
Service Type Educational
Duration 5 months
Date 23.8.2021
Summary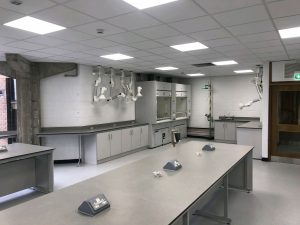 Project Description
This project involved upgrading works to a number of labs in the main live UL University Campus Building,
B3-005 2. B3-006 3. B3-017 4. B3-020 5. B3-054 6. GC-025
Demolition Works included Demolition of existing walls.  Demolition of existing doorsets. Removal of existing suspended ceiling. Removal of existing floor covering. Demolition of existing raised platforms. M&E strip out works. Removal of existing fitted furniture (for storage) Making good after demolition works.
Construction Works involved
New concrete walls. 2. Relocation of existing drench shower. New doorsets.  Making good following demolition.  New rostrum and demo bench. 6. Fire stopping of existing service openings in corridors / shafts.  Relocate existing WHB. New fitted furniture.  Clean down existing rads and pipework. New solar films to existing windows.  New ceiling.  New floor finishes.  New mechanical roof openings, roof steal for new AHU  Modification of existing roof handrail.  New AHU (see M&E drawings) New mechanical installations. New electrical installations .Installation of a new "Big Footstep Over System"
The project recognised  progression of demolition and construction activities in very close and proximity to existing students and staff and their facilities   which remained in use during demolition and construction works. This was paramount when planning the works.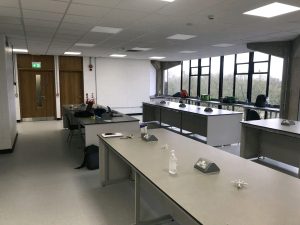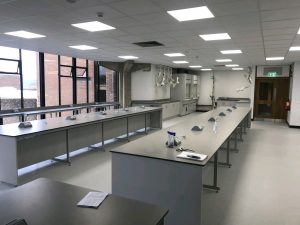 M Fitzgibbon Contractors Ltd Role
Main Contractor and PSCS
Architects/PSDP
Kelly Barry O Brien Whelan Architects
Structural Engineer
Arup Consulting Engineers
M & E Consultants
Don O Malley & Partners