Description
Client Plassey Campus Developments University Of Limerick
Service Type Educational
Duration 4 weeks
Date 30.8.22
Summary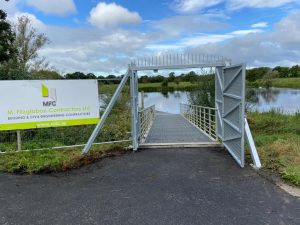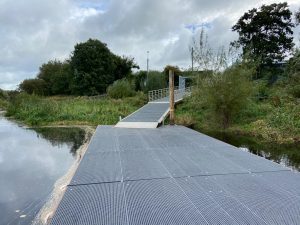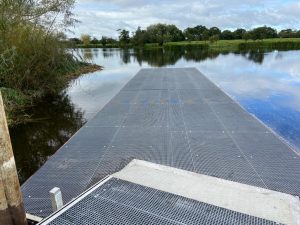 Project Description
The  development involved the repair and replacement of the existing pontoon. The existing gangway was retained and repaired. The mooring chains will need to be removed and reconnected. Anything snagged on this line including a tree will be removed and the anchor points will be cleared of silt and mud. Vegetation and silt below the pontoon will be removed. A new security gate will be installed. The new pontoon will be placed in line with the current mooring fixing points resulting in the pontoon being in the exact same location as the current structure.
Given the location of the works site, particular attention was paid to implementation of strict biosecurity and pollution control measures. M Fitzgibbon Contractors Ltd were acutely aware of the sensitive nature of the site and surrounding waters . A silt curtain was installed as part of the migitation measures on this project. Rubber mats were placed on the access walkway and pontoon for the machinery to transverse.
Architect:
Arup Consulting Engineers.