Description
Client Western Postform (Alan O Grady)
Service Type Industrial and Commercial
Duration 8 months
Date 1.7.19
Summary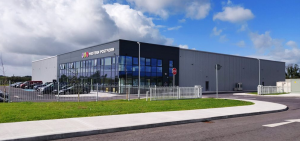 Description of Works
The scope of works was the construction of new ware house approximately 3,800m2  in area. The site was located about one kilometre south of Ballinasloe town centre at Poolboy on a green field site. The eastern boundary of existing stone walls and footpaths and the southern boundary consisting of an existing fence and hedgerows were retained.
Scope of Works included
A Steel framed manufacturing facility which includes production area, ancillary offices, welfare facilities, showrooms and storage spaces.  The Building Comprised Of Kingspan Roof And Wall Cladding, Kingspan
Kingflow parapet gutter system, Vehicular Access Door and Frame;
Concrete floor units, Curtain Walling System, roof lights, Internal Joinery, Floor Finishes, Concrete and Steel Stairs, Painting Internally And Externally, Fit Out Of Building ,M & E Services To The Building, Installation Of A Bio Mass Unit, Installation Of Lift, Air Tightness To Building.
M Fitzgibbon Contractors Ltd Role
Main Contractor and PSCS
Architect:
O'Neill O Malley Architects
M&E Engineer:
Varming Consulting Engineers
Civil and Structural Engineer:
TOBIN Consulting Engineers