Description
Client Office of Public Works
Service Type Restoration of Historical Structures
Duration 8 weeks
Date 1.9.20
Summary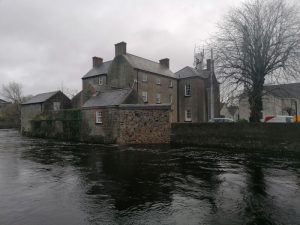 Project Description
Works were carried out to RIC barracks a Protected Building as follows
The River Fergus retaining wall which extended out as a breakwater failed causing the access route into a listed building built on top of the retaining wall to become unsafe. An enabling works programme installed gravel bags as a temporary breakwater. The next phase involved the breaking out of an ope . The stabilisation and repair to the building.
Stage 1 (completed) involved the breaking out of a new opening in the side wall of the building to allow access to the file room. The existing window frame and stone were carefully removed to be reused.
The careful removal of building elements (door, frame, arch head, key stone, plinth stone, limestone jambs and cappings and reusing same)
The installation of additional gravel bags in the river to act as a support point for one side of a scaffold which is required to gain access to the building roof.
The existing lead sheet roof was removed.
Steel tie back channels are to be installed to stabilise the wall of the file room building.
Demolishing of the porch wall to floor level, keeping all stone for reuse.
Removal of the porch floor and filling below to riverbed level.
Stage 2
1 Installation of shuttering beneath water and other temporary works.
2 Pour new 35N concrete below the water line
Working adjacent fluctuating water levels in the River Fergus
Stage 3 the reconstruction of the collapsed porch using all of the carefully removed.
Stage 4 is the removal of the temporary breakwater.
Environmental and Quality measures were implemented on this project due to the nature of works adjacent to River Fergus.
M Fitzgibbon Contractors Ltd Role
Main Contractor and PSCS
Architect:
A2 Architects
Engineers:
Punch Consulting Engineers